Evening Ritual: Restorative Facial Oil
Marula + Retinoid + Ceramides
Antioxidant-rich, multi-tasking facial oil, used nightly, to rehydrate the skin, target signs of aging, and replenish your natural barrier. 
Explore the research behind each ingredient.
Suitable for all skin types. 

No fillers or fragrances. Vegan and cruelty-free.

Leaping Bunny certified.
Antioxidant-rich, multi-tasking facial oil, used nightly, to rehydrate the skin, target signs of aging, and replenish your natural barrier. 
Explore the research behind each ingredient.
Suitable for all skin types. 

No fillers or fragrances. Vegan and cruelty-free.

Leaping Bunny certified.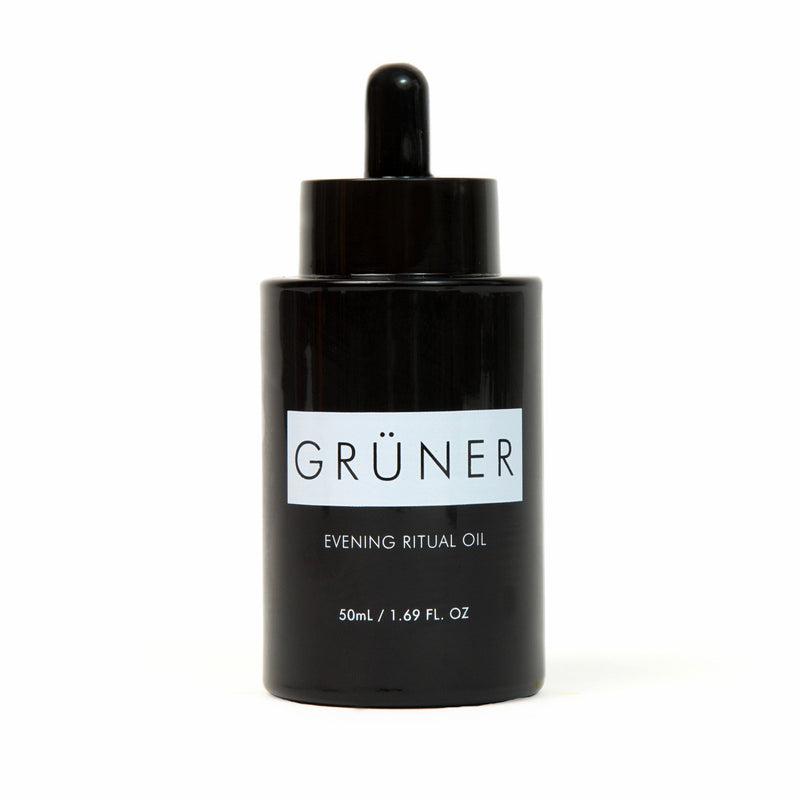 Make a nightly investment in the long-term health of your skin.
Start an evening ritual. Reclaim balance. Wake up looking + feeling refreshed.
Deep Hydration

Marula Oil + Ceramides restore your skin's moisture barrier.
Potent Anti-Aging

Advanced Retinoid stimulates cellular regeneration.
Foundational Wellness

A luxurious spa ritual to end your day, and drift to sleep.
Evening oil is an easy & enjoyable staple of my evening routine!
Was a Clinique user forever, and then I just noticed it not really working anymore and I was getting lots of redness.. this was around the time apothecaries were really popping up everywhere. After trying pretty much everything I settled on the following face routines that I always look forward to and definitely bring out the best in my face:
(AM)
Wonder valley oil cleanser
Botnia hydrating serum 💕
Berlin skin blue tansy 💕
(PM)
Wonder valley oil cleanser
Grüner evening ritual oil 💕
Thanks Frank and Alexandra!
High-end, silky smooth
Absolutely love the evening ritual oil and funny enough I use it in the morning as part of my routine. I absolutely love the incredibly soft feeling and even more so, with scruff on my face it softens the hair and also the skin in between. A must and huge bonus is this formula not only feels luxurious but is scentless -- the way good skin care products should be.
Magic in a bottle!
What can I say that will convince you to try this oil? Gruner is magic in a bottle! I'm 44, with mild acne and acne scarring, and this oil hydrates, brightens, and smooths like no other. I have tried a wide range of products of all different price ranges - single oils, oil combinations, retinol formulas that just caused more redness and irritation than they helped - but this oil is different!
After just a couple of weeks, the overall texture of my skin has greatly improved. It does not break me out - instead, it actually helps prevent and heal existing blemishes, evening my skin tone. The combo of the granactive retanoid, ceramides, and glorious oils is now an absolute must-have in my routine.
At night after cleansing, I warm up 4 drops in my hands and press them into my skin. The next morning I wake up with super soft, brighter, smoother, hydrated, glowing skin, and it just keeps getting better and better every day. My skin has just never looked this healthy overall.
Further, if you have shopped serums at all before, the price point for Gruner is really good. You will not find a better oil for this price. It has replaced multiple products and combined them into one bottle. You can't do better than that.
I highly recommend you give it a try!
It's working! It's working!
So... yeah! I think it is. To tell you the truth, I wasn't expecting anything to happen. But lately I am getting to a point where I feel like I need to take better care of my skin. I have been trying out a bunch of free trials from other places which also seem to be working somewhat, but to have something so simple as a single evening ritual oil that takes the place of like four other products I would have to use is amazing. The ease of use also means I am more likely to actually do it. Not sure if anyone is reading this post pandemic and are no longer living dat zoom life, but I have had to check a couple times to make sure the "touch up my appearance" wasn't turned on. So, if you are non the fence, just do it and try it out. You'll see good results. Do it. :)
Silky smooth!
This product made my skin so soft after just a few days. It's the perfect product to apply right after a good exfoliation or just anytime! I've also noticed my skin tone looks more even. I started using it as a primer for my make up as well and it's gives me a perfect air brushed look! 10/10 for this product. Highly recommend it!
Fantastic product
I am super impressed by the quality and effect of this fantastic night-time oil -- I can even wear it over my tretinoin cream and it combats the dryness that almost always follows. It feels light, yet saturating, and gives my skin a great softness and shine. I use it on my face and décolleté. Highly recommended. My boyfriend loves that it doesn't have a strong scent unlike so many other of my skincare products! 5 stars!!
Awesome product
Amazing stuff! I have been using this for a little over a week now and I can already see results. Blemishes are clearing up and skin feels smoother as well as a more even skin tone. I would definitely recommend!
I didnt realize my skin needed this.
I'm 33 and have struggled with dry and sensitive skin my whole life. For the past 12 years, I've maintained the same simple and solid skin care routine for my dry and sensitive skin. I was skeptical at introducing a new product since my skin is so sensitive, but I liked the company message and I hadn't heard of Marula oil before.
Within 3 days, the skin around my forehead and cheekbones was smoother, and my skin tone overall had evened out. The oil absorbs quickly and my skin feels and looks great. I will be adding this to my permanent skin care routine.
I highly recommend this product!
Thanks Frank!
This stuff is liquid gold...
I have annoyingly sensitive skin, and I've used the ritual oil every night since I got it and my skin is significantly less irritated. I get so much dryness and redness around my nose and chin and it has made a noticeable difference.I also noticed my fine lines on my forehead have softened. Overall super impressed and will be using henceforth.
Unlike most investments, this one's risk-free.
We offer a 21 day unconditional money back guarantee. If you're unhappy with any Grüner product, for any reason, we'll refund you -- as simple as that.
Have a question? We're here to help. Hit the chat button or shoot us an email - hello@gruner.shop
Intention and Design
Ethical, luxurious and research-backed.
We set out to create the perfect overnight oil -- a single application to combat daily dehydration and counteract the signs of aging. Our Evening Ritual Oil fills a gap that had previously required the combination of multiple products. Forbes calls it "the ultimate multi-tasker" -- an elegant microdose of wellness to elevate your evening routine, so you can wake up glowing.
Thesis: A fast-absorbing facial oil with the antioxidant profile of pure virgin marula oil, and the skin restorative benefits of vitamin A and ceramides, without any essential oils or fragrances, and without adding a "luxury tax" to the price tag. Formulated in the USA. Packaging made in Italy.
Our Formulation and Research
Organic Virgin Marula Oil

97%

Widely considered a "luxury oil", and often sold for over $100/oz., this antioxidant-rich, easily absorbed oil is rich in omegas 6 and 9, hydrates and restores the skin, without leaving you feeling greasy.

 

✧ Seals in moisture - it has emollient (softening) and occlusive (sealing) properties

✧ Suitable for sensitive skin

✧ Age-fighting antioxidant profile

✧ Anti-inflammatory

 

The Research:

"These fatty acids present in Marula oil are very similar to those present in the epidermis, and can be considered biomimetic"

"Marula oil rich in fatty acids exhibits moisturising, hydrating and occlusive properties."

https://pubmed.ncbi.nlm.nih.gov/26528587/


https://pubmed.ncbi.nlm.nih.gov/29415712/

 

Ceramides are lipids that make up 50% of your skin's natural barrier. Daily life takes a toll on our ceramides. Replenishing them daily helps your skin retain moisture, and protects against environmental irritants.

 

✧ Restores the skin's moisture barrier
✧ Promotes firmer, smoother skin

✧ Reduces skin sensitivity

 

The Research:

"A single topical application of... Ceramide cream... resulted in a significant increase in skin hydration"

This ester of all-trans retinoic acid is the most advanced form of vitamin A available over the counter. It provides all of the benefits of retinol with none of the irritation, so it's suitable for daily use.

 

✧ Promotes collagen production

✧ Treats acne and clears pores

✧ Brightens skintone

✧ Reduces hyperpigmentation

✧ Promotes hair growth when used on the scalp

 

The Research:

"Amongst various anti-aging agents, retinoids are the most promising agents that are available for the treatment of aging."

https://www.ncbi.nlm.nih.gov/pmc/articles/PMC2699641/


https://www.ncbi.nlm.nih.gov/pmc/articles/PMC5136519/
 

 

✧ Tocotrienols (Vitamin E) - A potent antioxidant and skin-soothing agent

✧ Glycine Soja Seed Extract - A natural emollient

✧ Sunflower Seed Oil Unsaponifiables - An emollient with high linoleic acid content, which helps replenish, strengthen, and soothe skin



Sclerocarya Birrea Seed (Marula) Oil, Dimethyl Isosorbide (and) Hydroxypinacolone Retinoate (2%), Helianthus Annuus (Sunflower) Seed Oil Unsaponifiables, Glycing Soja Seed Extract and Ceramide NP, Tocotrienols (Vitamin E)
This stuff is gold!
It's my new favorite by far. My skin has never been so soft AND it clears up my breakouts! This oil is incredible!!
Exceeded expectations
I've use a few different oils in my minimal skin care routine that I've enjoyed, and have found benefits from. I find them rejuvenating to the skin without adding a ton of ingredients to my face.
But, I'm at an age where I've been researching adding a more comprehensive oil or skin cream to my nightly regimen.
In comes Grüner! It has all the simple ingredients I've been interested in incorporating, and is so silky when applied. It absorbs into the skin nicely, aka: my pillow thanks you!
The real unexpected surprise was the next morning after my first use. I woke up with a noticeably softer texture and more even complexion to my skin.
A little goes a long way. Highly recommend this product!
One and done
A beautiful, effective, all in one product for the individual who doesn't have the attention span for a 12 step evening routine (i.e. me)! I've been using Grüner for about two months and have noticed a huge improvement in my skin texture and moisture balance. It feels super luxurious going on and has quickly become a holy grail product in my bathroom that I look forward to using nightly. Can't recommend enough!
Liquid sunshine for your skin
Such a very soothing and replenishing facial oil. Highly recommend!
Amazing product
When I first opened the package I loved the look of the product. Next I found the container easy to open and apply.
When I massaged the oil on my face it felt wonderful. My skin was full of moisture and felt soft. In the morning my skin still felt great.
After using my ritual oil for a few weeks and working on my evening ritual my skin looks and feels amazing.
I highly recommend this product and recommend following the useful lifestyle suggestions on the web site.